Welcome to Pristine Englishs Cream Golden Retrievers
WHO WE ARE
We breed and sell English Cream Retrievers for showing and as top quality family pets.
We chose English Cream Golden Retrievers because we fell in love with their docile demeanor (especially with children), extreme intelligence, and the fact that they make excellent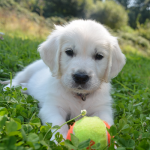 pets for families of all ages. Also, the English Cream Golden Retriever is one of the most beautiful and versatile dog breeds. They are great dogs for companionship, therapy and service dogs. According to the American Kennel Club, Golden Retrievers are one of the most popular breeds. For these reasons we decided to become English Cream Golden Retriever breeders.
We breed and raise our English Cream Golden Retriever dogs and puppies on our 16 acre farm in Grabill, Indiana. Our dogs get lots of love and attention everyday. They interact with myself, my wife and all of our children throughout the day and are part of our family.  We pride ourselves on breeding and raising quality, healthy English Cream puppies.
Our English Cream Golden Retriever studs, Izum, Sky Pride Paskal, and Tramin Legal Design (now retired), are Junior Champions who were born and imported from Ukraine. Our females were specially chosen for their great temperaments, golden coats, and exceptional comformation!
TESTIMONIALS