Welcome to Pristine Englishs Cream Golden Retrievers
WHO WE ARE
We breed and sell English Cream Retrievers for showing and as top quality family pets.
We chose English Cream Golden Retrievers because we fell in love with their docile demeanor (especially with children), extreme intelligence, and the fact that they make excellent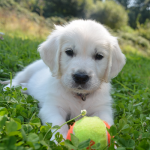 pets for families of all ages. Also, the English Cream Golden Retriever is one of the most beautiful and versatile dog breeds. They are great dogs for companionship, therapy and service dogs. According to the American Kennel Club, Golden Retrievers are one of the most popular breeds. For these reasons we decided to become English Cream Golden Retriever breeders.
We breed and raise our English Cream Golden Retriever dogs and puppies on our 16 acre farm in Grabill, Indiana. Our dogs get lots of love and attention everyday. They interact with myself, my wife and all of our children throughout the day and are part of our family.  We pride ourselves on breeding and raising quality, healthy English Cream puppies.
EXCITING NEWS – OUR NEW STUD DOG, TRAMIN LEGAL DESIGN,
ARRIVED FROM EUROPE MARCH, 2022!!!
What a fabulous demeanor he has! He is already settled into his new home and is playing with the kids! This dog is simply a dream come true not only as a new sire to add to our breeding program but a lovely addition to our family! We are in love with him and couldn't be happier!
Our most fabulous addition to our kennel: Champion Tramin Legal Design. Designed with excellence indeed!
With Guardian Of Dreams Ola De Oro being the Top National Champion of Ukraine, our newfound line into the USA will give us lots of options and genetics to offer many programs with hybrid vigor in top form! Besides his top form and amazing movement offers an exquisite style and strong physique with heavy bone, stallion style head structure, and total balance.
His Dam is unequaled in comparison, Champion Tramin La Vita Bella whose Dam is the infamous Painted Lady v.d. Beerse Hoeve…One of the oldest Dutch foundation lines Tramin Retrievers has incorporated into pedigrees; like International Champion Tramin Legolas…and 7 times Best in Show Champion Tramin Le Petit, to mention just a couple of examples of the breed; this is an exemplary style in large frames and strong form that will continue to produce Excellent Progeny For Generations To Come!!!
These combined together in one new great young sire begin our new legacy of our future!!!
Join us in celebration of our evolution! We are here to give you the BEST genetics for your Golden Retriever program to be a commodity in demand for future generations!!!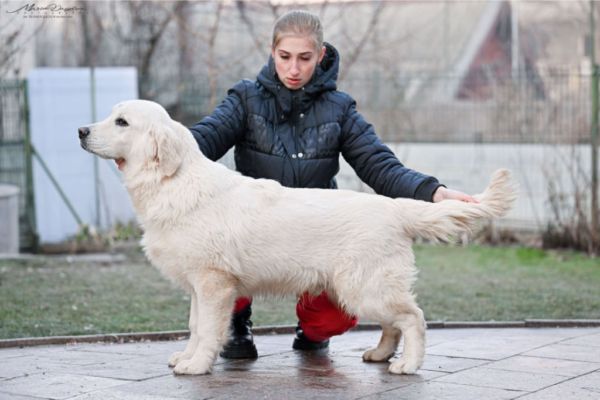 TESTIMONIALS